Today is day 4 of our Back to School with the Blogging Buddies Blog Hop! Today Kristin is sharing organizational tips for Back to School! Head over to our page to see the schedule and get all the links!
Let me first start out saying how exciting I am to be sharing this ebook with you! When I first heard about "The Ultimate Guide to Brain Breaks" by Heather Haupt I knew this ebook would be a great addition to my resources as an Occupational Therapy Assistant and new mom. And we share the same first name so of course I knew it was going to be a great book, because Heather's are awesome!
Even though my daughter is still too small for these movement activities, a point Heather brings out in her book, Brain Breaks isn't just for kids; everyone can benefit from Brain Breaks to help with learning!
So I am proud to introduce you to Heather's new ebook The Ultimate Guide to Brain Breaks!
** This post contains affiliate links – please see my disclosure policy for details. Thank you for supporting GRB **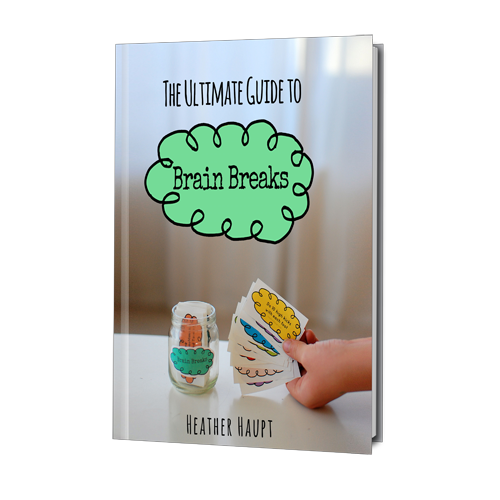 Movement helps the two hemispheres of the brain work together. This, in turn, MAKES LEARNING EASIER! – Heather Haupt, The Ultimate Guide to Brain Breaks 
Get Your Brain Breaks On!
Heather is a homeschooling mom and realized that her kids needed something to wake them up during the day. They were starting to get that "computer screensaver" look during seated tasks or during challenging thinking activities during their homeschool day. She knew she needed to add some movement into their day and that is how Brain Breaks was born.
Heather's main resource for Brain Breaks was reading Smart Moves: Why Learning is Not All in Your Head by Carla Hanniford. I am very familiar with this book and movement program from my training as an Occupational Therapy Assistant, and one thing we all definitely agree on; MOVEMENT INCREASES LEARNING!
She not only explains why she decided to include Brain Breaks in her children's day, but also the science behind it! Bilateral Coordination, the vestibular system, the cerebellum, all are important parts of learning. Movement includes all of these important brain functions and improves learning! This was a great review for me since it has been a while since I was in college and has also been a while since I stopped working to stay at home. But don't worry, Heather wrote it so that it is easy to understand even if you aren't too familiar with biology or sciences.
How do I know Brain Breaks are Good for My Children?
Honestly, Brain Breaks are perfect for any child no matter if they have learning issues, sensory issues, or are just getting that glazed over look during their school work! But here a few things to think about to see if getting Brain Breaks is a good fit for your family.
Do your children often get that computer screensaver or glazed over look; they are there but no one is home type look?
Do your children often loose concentration during seated tasks and often need redirected?
Does your child often get emotional or disruptive during challenging tasks?
Do they talk about or ask questions that are not related to the topic at hand?
If you answered yes to any of these questions, then I want to suggest that you get a copy of The Ultimate Guide to Brain Breaks! And this is perfect for teachers in the public school setting as well as homeschoolers. Anyone who is in a learning environment (aren't we all?) can benefit from Brain Breaks! While I was reading Brain Breaks, I could feel myself starting to loose focus since I was reading it on my computer  and had been on there for a while (and facebook was calling my name, lol). So I stood up and did some stretches and took some nice deep breaths and then sat down again to finish. I could feel the tension in my head go away and I was able to focus and finish easily! So see, Brain Breaks just aren't for kids!
When I was reading over the actual Brain Breaks (and there are 60 to choose from) I found quite a few that I have used multiple times when treating special needs children in the public school setting as an OTA (Occupational Therapy Assistant). Figure 8 drawing for improving concentration, jumping jacks to help release some pent up energy, and the pretzel stick (one of my favorite ways to challenge my kid's coordination and balance). There are definitely a wide variety to choose from and Heather gives great tips and suggestions on how to mix them up and use them in your day to day life.
What do I get and how to purchase The Ultimate Guide to Brain Breaks?
ebook digital download, 44 pages long
Detailed reasons as to why Brain Breaks are so important to your child's learning!
Explanation of how to use Brain Breaks in your day to day homeschool or classroom.
60 Brain Breaks – step by step directions (some with pictures) on how to complete each brain break
Colorful Brain Break cards to print off and include in your Brain Breaks Jar.
 You can purchase The Ultimate Guide to Brain Breaks  for $7.99
Heather has graciously offered my readers a special 25% off code that you can use when you purchase. Simply type GLB into the code box and get your 25% off! This code is only good for a week and will end 8/29/2013, so be sure to get your copy today at this special rate!
Click HERE to visit her website and to purchase.
You can also read Heather's blog series "10 Days to Boosting Brain Power" for more ideas and tips!
You can also sign up for her Ultimate Brain Breaks Newsletter!
Here is a video from Heather summarizing The Ultimate Guide to Brain Breaks!
Isn't she sweet?!
I know that Brain Breaks will make a great difference for your child during their day! If your child goes to public school, why not suggest Brain Breaks to their teacher? It will not only benefit your child in school but their classmates as well!
Here are some other posts I have written of Occupational Therapy Tips that you may be interested in:
Blessings,

*Disclaimer – I received a free copy of The Ultimate Guide to Brain Breaks for the purpose of reviewing and sharing with my readers. I did not receive any other monetary compensation and a positive review was not required. All thoughts are my 100% honest opinion*
Disclaimer: I am a Certified Occupational Therapy Assistant. The advise in these tips is not a replacement for medical advise from a physician or your pediatrician. Please consult their advice if you suspect any medical or developmental issues with your child.